La fotografia ha quattro dimensioni.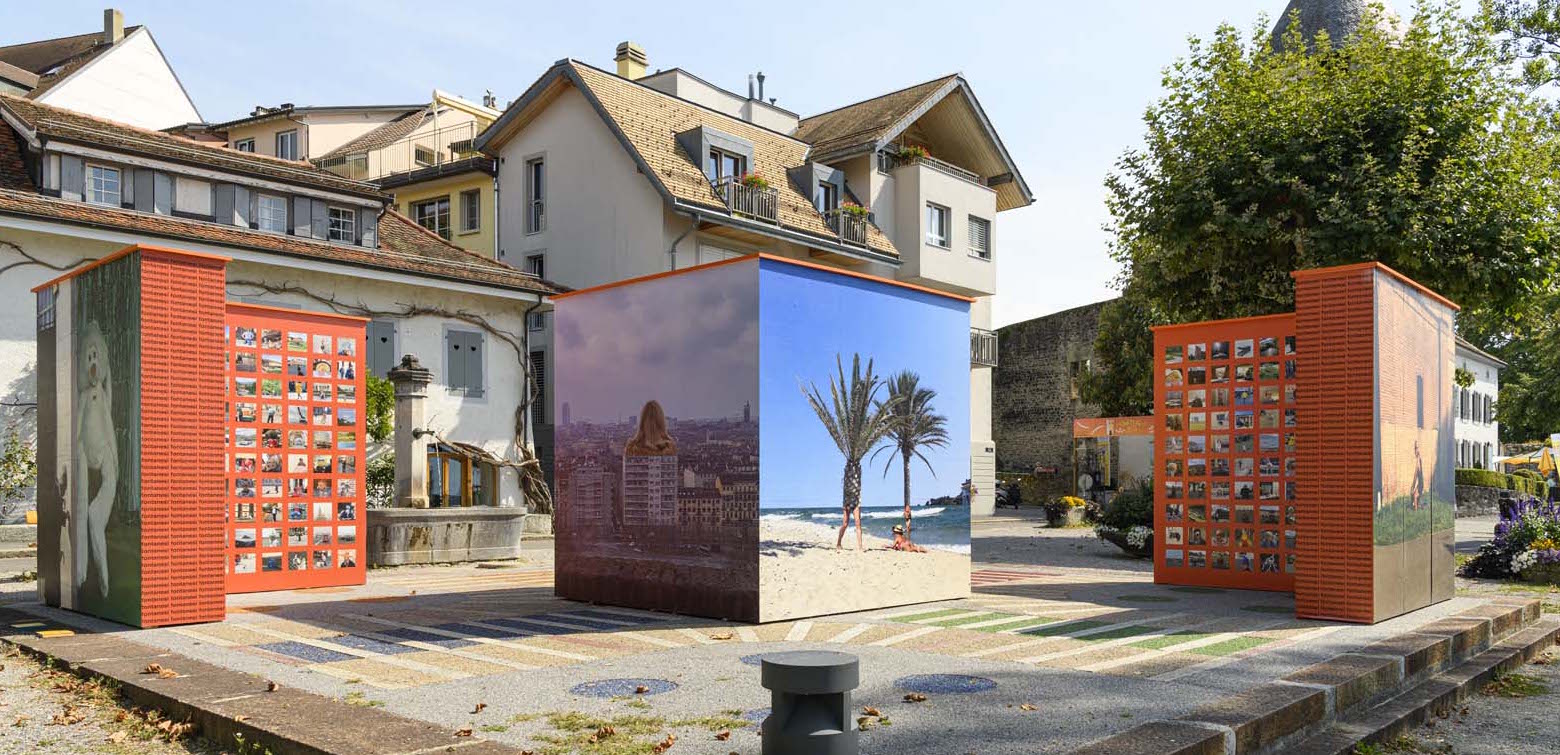 Fontanesi
Images Vevey 2020

Gibellina PhotoRoad
2019
Progetto vincitore della call for projects Gibellina PhotoRoad 2019, in collaborazione con Skinnerboox.
Gibellina Photoroad 2019 call for projects winner, in collaboration with skinnerbooox
[exhibition]
@fontanesi è un account Instagram anonimo che conta più di 50mila follower e seimila immagini pubblicate. Ogni immagine è composta da più foto tagliate e assemblate, dando vita a una raccolta di combinazioni visuali che inventano un nuovo quotidiano "per mostrare la realtà così com'è".
Prima per Gibellina PhotoRoad (2019) e poi per Images Vevey (2020), abbiamo traslato il progetto @fontanesi dal piano virtuale al piano tridimensionale: da Instagram a installazione fotografica open-air.
In entrambi i casi gli allestimenti sono stati studiati ad hoc per le location con l'obiettivo di offrire al pubblico un'esperienza coinvolgente e partecipata.
Muovendosi all'interno dell'installazione e sfruttando le diverse prospettive che essa offre, lo spettatore è invitato a interagire con i lavori e a costruire i propri
giochi combinatori.

→
Guarda la video-intervista su Artribune
Counting almost 50 thousand followers and 6,000 posts, the anonymous Instagram account
@fontanesi
is a collection of visual combinations making up a new everyday to show reality just the way it is.
For the first time at Gibellina Photoroad (2019) and then at Images Vevey (2020), we translated the fontanesi universe from Instagram into reality, as to say a site specific open air installation.
Both set-ups were specifically designed for their location as to provide a captivating experience to the viewer.
By walking around the installations and shifting through the different perspectives they offers, the viewer is invited to engage with the work and to build her own combinations.
→
Watch the video-interview by Artribune
Baci From Cortona
2019
In collaborazione con il festival di fotografia Cortona On The Move e University of Georgia Cortona.
In collaboration with Cortona On The Move photography festival and the University of Georgia Cortona.
[exhibition, photobook, open call]
In occasione del 50mo anniversario di UGA Cortona (programma di scambio fondato da University of Georgia nel 1969), abbiamo realizzato un photobook celebrativo e una mostra open-air per raccontare lo speciale rapporto che si è venuto a creare tra cortonesi e studenti americani in questi anni. Il progetto è stato costruito sui risultati di una open call, tramite la quale abbiamo raccolto circa 1600 fotografie personali e più di 20 ore di interviste, coinvolgendo un totale di 200 partecipanti. Il fotolibro è stato distribuito gratuitamente durante l'inaugurazione della mostra, parte della nona edizione del Festival di Fotografia Cortona On The Move 2019, presso i Giardini del Parterre di Cortona.

→ Sfoglia il photobook

On occasion of UGA Cortona's 50th anniversary (an exchange program launched by the University of Georgia in 1969) we made a photobook and an open-air exhibition to celebrate the special relationship developed between the program's students and the locals. The project was based on the outcome of an open call which collected almost 1600 personal photographs and more than 20 hours of interviews, counting almost 200 participants. The photobook was distributed for free during the exhibition opening, which took place at the Parterre gardens in Cortona. The exhibition was part of the official programme of Cortona On The Move Photography festival's 9th edition.
→
Browse the photobook
La fotografia ha quattro dimensioni. Quella piatta di un libro, quella luminosa dello schermo, quella verticale di una mostra; la quarta, dai confini indefiniti e propri per questo affascinante, è una visione in espansione, che abbraccia altri linguaggi, altri codici, altri sistemi.
Photography is four dimensional. Flat on the pages of a book, bright on a screen, vertical on the walls of an exhibition; the fourth fascinating dimension has no set boundaries, it is an expanding vision which encompasses other languages, other codes, other systems.
Speciale 18/25
Fotografia Europea
2019
[workshop, exhibition]
Siamo stati tutor dell'ottava edizione di Speciale 18/25, il progetto dedicato alla formazione del festival Fotografia Europea (Reggio Emilia).


I trenta partecipanti under 25, selezionati tramite una open call, hanno intrapreso un percorso finalizzato alla creazione di un progetto fotografico. Sulla traccia del tema di Fotografia Europea 2019 "LEGAMI. Intimità, relazioni, nuovi mondi.", abbiamo scelto di guidare i ragazzi in una riflessione sulla coautorialità e sulla collaborazione, coinvolgendo anche ospiti esterni per incontri di approfondimento, come Patrick Waterhouse e Anna Messere.
La mostra finale, intitolata "Collaboration/Matter", fa parte del programma ufficiale di Fotografia Europea 2019 (Chiostri di San Pietro) ed è stata curata da noi, con allestimento realizzato dai partecipanti.

→ Leggi il testo di mostra
We ran the 8th edition of Speciale 18/25, a photography workshop for young adults promoted by Fotografia Europea Photography festival (Reggio Emilia).
Thirty young adults – selected through a call for entries – were supported in the making of an original photo project. In light of Fotografia Europea 2019's theme "BONDING. Intimacy, relationships, new worlds", we focused the course on co-authorship and collaboration and invited guest speakers such as Patrick Waterhouse and Anna Messere.
The final exhibition – titled "Collaboration/Matter" – was part of Fotografia Europea 2019's official programme (Chiostri di San Pietro); it was curated by us and installed by the participants.
→
Read the exhibition text